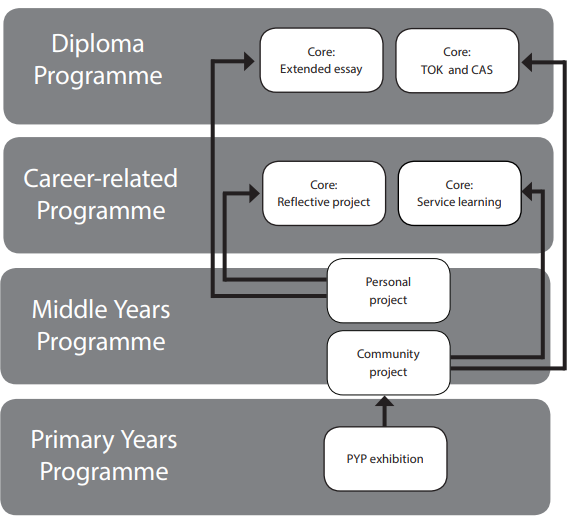 Dear Families,
Last week was filled with wonderful experiences living our educational approach through the International Baccalaureate (IB)! Here are a few highlights:
PYP Year 6 Exhibition
Core to the IB continuum of international education excellence is a progression of learning pathways to projects or culminating experiences across the four IB programmes expressed in the IB Project Progression. As an authorized Primary Years Programme (PYP), students completing 5th Grade (Year 6) will have experienced a broad and engaging curriculum, which culminates with the PYP exhibition. This is an age-appropriate demonstration of learning involving inquiry into the world around them.
Throughout the school year, students participate in a collaborative, transdisciplinary inquiry process that involves identifying, inquiring, and developing solutions to real-life issues or problems. Last Wednesday, our Year 6 learners presented their research to our school community throughout the school day and to their family and friends at their promotion. Mrs. Astor and Mrs. Schnell worked closely with the students throughout the exhibition process, identifying mentors, developing organizational, research, collaboration, and presentation skills to allow the students to express their learnings to our community. The skills the students develop in the PYP are then expanded as they enter our Middle Years Programme (MYP).
MYP Verification Visit
On May 15th and 16th, we welcomed the IB verification team to our campus. The purpose of the verification visit is to confirm that our school has taken all necessary actions to meet the authorization requirements and is prepared to offer the relevant IB MYP with fidelity, and will be able to sustain and improve programme implementation once authorized. Thank you to the families, students, and all our staff who shared with and welcomed the IB team into our Village life. The visit was a wonderful reminder of why we value the IB approach and the dedication of our team, our learners, and you, our families.
In June, we will hear from IB regarding the decision on our candidacy. During the decision on authorization phase, IB staff will review the verification visiting team's feedback and determine whether our school has met the requirements for authorization. We look forward to sharing the feedback from the IB and the next steps of our growth for the MYP.
MYP Hotelier for a Day
On May 18 and 19, our MYP students took on the role of a hotelier for a day, learning the roles and functions in a hotel and experiencing what it's like to provide exceptional hospitality services to guests. During their hotelier experience, our students had the opportunity to learn about various hotel departments, such as housekeeping, front desk, food and beverage, and guest services. They worked alongside hotel staff, observing and participating in their daily tasks to better understand a hotel's inner workings. Their day included tasks such as greeting guests, checking them in and out, answering phone calls and emails, delivering room service, cleaning guest rooms, and setting up banquet or conference rooms. They learned first-hand how to handle guest complaints and provide excellent customer service to ensure guest satisfaction, a critical aspect of the hotel industry, as customer satisfaction is key to the success of any hotel. By the end of the day, the students had a newfound appreciation for the hard work and dedication that goes into running a successful hotel.
Our gratitude to Alma de Villa, Hotel Manager and Luis Moreau, General Manager, and all the staff of the Melia Orlando Celebration for making this experience possible. We look forward to expanding these experiences next year and growing our community partnership with the Melia!
Thank you for learning and growing together in international education excellence through whole-child development.

Derek Cummings
Head of School